After a stressful week at work, I had a very relaxing and peaceful weekend. I think it is the first time I have been able to say that for a long time.
On Saturday night my friend Meredith and I had a girls night out. We had sushi and martinis at one of the best Japanese restaurants in town. We sat around downtown in this covered courtyard which is surrounded by upscale bars and we watched a football game on a giant screen. We just relaxed and had fun. We had coffee and cupcakes at a nearby diner.
(Meredith)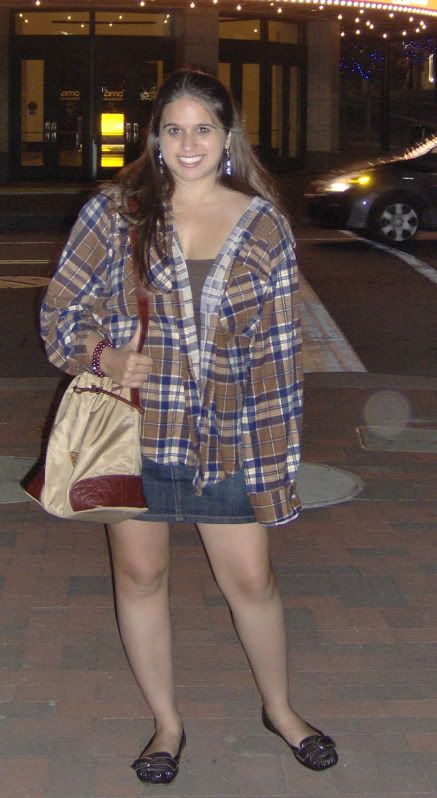 (Me. Wearing thrifted flannel shirt, Ralph Lauren skirt, Prada bag and Tod flats.)
We ended up seeing a late night showing of Love Happens at our city's fanciest movie theater. You had to be 21 to get in and pay $20 but it was actually worth it. The seats were leather recliners. The popcorn came with any seasoning we wanted (we opted for Parmesan). The drinks were cheapish (Meredith and I kind of overdid it on the wine). The servers were promptly at our beck and call. We felt like movie stars!
By the way, Love Happens is actually a good movie. It is not the sappy romantic comedy I was expecting. It was more a story about life. (And Aaron Eckhart is pretty hot).
Then today, Meredith and I continued our girls night out by attending our city's annual art fair. All the art was expensive but it was a lot of fun to browse.
Mostly, it just gave us ideas for fun art projects we could do ourselves. Haha.
Unfortunately walking outside started up my allergies and I've been kind of miserable for the past few hours. I'm hoping it will go away over night. But nothing ever does, does it? Blah.
Oh well. I hope everyone else had a fabulous weekend as well!