It has been a while since I have done an outfit post, so I thought I would show you a few I wore this past week.
The weather has been lovely. Not too cold but not hot either. Just a perfect crisp fall breeze.
I wore this upcoming outfit when Kerrie and I had our last shopping day. We had dinner with her Native American grandmother that night so that evening I replaced the moccasins with my brown Tod flats because I didn't want to offend her.
Halogen shirt, Ralph Lauren denim skirt, and Minnetonka woodstock moccasins. Please excuse the strange pose. I think I was about to tell my photographer to pause for a second. Nice.
Close up of the moccasins
The following outfit is one of my favorites. I got this dress at an estate sale of this wealthy little old lady who loved to travel. She had gorgeous insanely expensive pieces of jewelry from all over the world, fabulous furs, and handmade dresses from Africa. This is one of those dresses. I wore this outfit to a poetry reading with Rian earlier this week.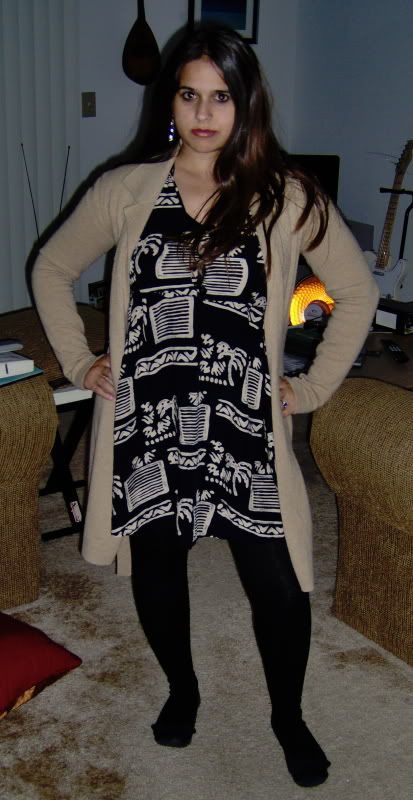 Handmade dress, Banana Republic cashmere cardigan, Target black tights, and Gap shoes.
And finally, I wore this outfit yesterday. I was having a really bad day but when I came home, Rian said I looked beautiful, which made me very happy. I have only worn this beaded skirt twice in the past year because it is so delicate.
Thrifted skirt, cashmere Banana Republic sweater, White House/Black Market necklace, Gap shoes.
A close-up of the skirt.
I hope you all had a lovely week. I took the day off today so I could get all my chores out of the way for Halloween. And then Kerrie is coming over tonight to bake pumpkin cookies and watch movies. Tomorrow we have a busy night planned, with a few Halloween parties to attend. I'm really, really excited!
I hope you have a great weekend!