I know I've been saying this a lot lately, but I am so sorry for not posting in a while. The holiday weekend on top of my broken laptop has meant very little internet time for me. It sucks.
I promise to get back to each and every one of you very soon!
Lately the weather in my town has been mild. Since I haven't done an outfit post in a while, I thought I would share some of my favorite fall outfits I have worn in the past week.
It's funny. I fell in love with this dress when I saw it at Target six months ago. Sadly, I didn't have $30 to spare for it. Imagine my surprise a few weeks ago when I saw it was on sale...for $5! I thought the fall colors were just perfect for a sunny November day.
Target dress, Banana Republic cashmere cardigan, and Prada bag
I enlarged this next photo because I wanted to show off my favorite coat. When Harold's went out of business a year ago, I snatched this gem up at a ridiculous price. Every time I wear it, I feel like a princess. (Well, almost every time. My somber expression is because 20 minutes after this photo was taken I had to interview a couple whose daughter had been raped and murdered ten years beforehand. Her killer was recently found. Sometimes being a newspaper reporter can be a very emotional experience...)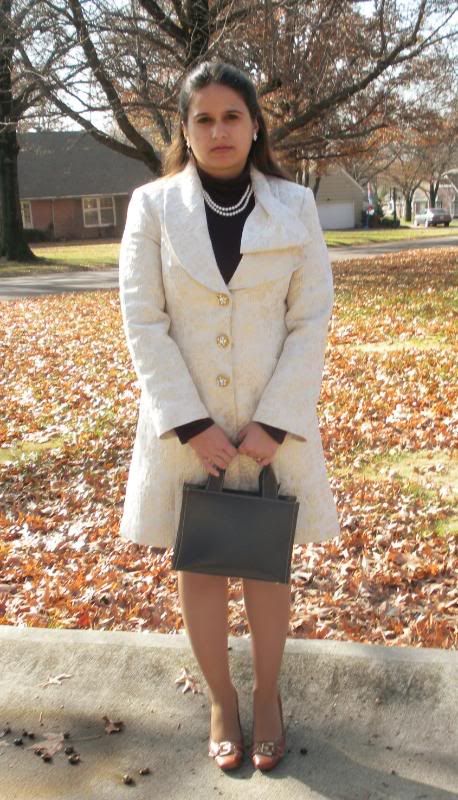 Harold's coat; Gap dress; pearl earrings and necklace from Kay Jewelers; Kate Spade bag; vintage shoes
This last outfit is the result of Black Friday! I got this lovely skirt from J.C. Penney for only THREE DOLLARS.
My Michelle skirt; Etro top; cardigan from Target; I totally forgot where I got the sandals.
Unfortunately, I think our heat wave is over. I have a feeling my future outfit posts are going to be filled with sweaters and ear muffs. Sigh.
And now to my surprise...
I am going to leave you with one of my favorite videos. It is from four years ago before Lady Gaga was famous and merely a music student at NYU. Lady Gaga, aka Stefani Germanotta, blew away the judges with two of her original compositions during the university's annual talent show. She came in third place. Ironically, one of the judges quipped "Norah Jones, look out!" As we all know the future Lady Gaga would not go on to make Norah Jones-type music at all.
Enjoy!