Weekend was kind of crazy, as usual. I don't know why I don't relax during the weekend. I guess I just don't have the opportunity to see friends and family during the week, because of work. So my weekends are always jam-packed and exhausting because I don't get to sleep in, or even really sleep at all for that matter. Sigh.

On Friday night Kerrie and I went to the art district and messed around.
Unfortunately we spent an hour searching for her friend Brandon who was supposed to meet us at a local diner. We didn't have a lot to do while we searched all of downtown for him, so we took pictures.
After finding him and quickly getting bored with him, we had him drive us to this late night art party down in the ghetto.
We met a few interesting people. A 40 year old man chatted me up all night and eventually asked me three times to go to dinner, even though he knew I had a serious boyfriend. Another man followed me all night and kept saying he was going to paint me. He said I didn't even have to pose because he had my face etched into his head already. He has a gallery opening in two weeks, so it will be interesting to go and see if he was true to his word. Although seeing a painting of myself would be a little disturbing...
Kerrie traded pants with a 24-year-old guy who turned out to be the world's greatest asshole. Without going into too many details, let's just say he treated Kerrie with complete disrespect afterward.
I raised so much hell he left us alone. If I ever see that douchebag again, I will kick his ass. And I am totally serious about that. My biggest regret was not unleashing the pepper spray on him.
After the party, Kerrie and I headed over to a local diner for...dinner? It was 2 a.m.
I had a chicken sandwich.
The next day, I went thrift store shopping with my awesome friend Nadine.
This is what a I wore: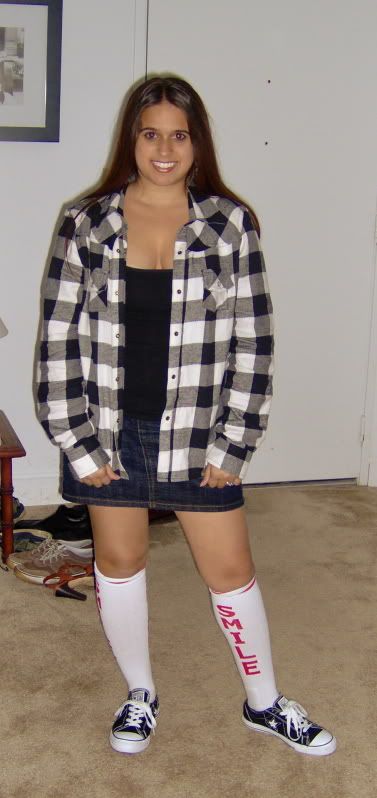 (Flannel shirt, Target; cami, Express; skirt, Ralph Lauren; Converse shoes, Target; socks, Rock Socks, which you can find
here
. I won the socks a while ago courtesy the lovely
Dream Sequins
.)
Nadine and I have been good friends for ages, but this was the first time we have had a photo taken together in more than three to four years. I think it's because when we're together our awesomeness is simply too much for a camera to handle.
And then on Sunday, my parents and I went to an apple festival two hours out in the country. It was pleasant and I broke my diet by eating fudge and drinking tons of apple cider.
I hope everyone else had a fabulous weekend!